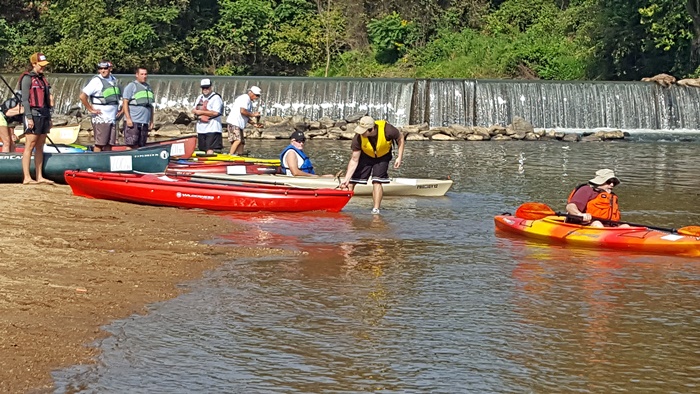 Since 1989 the Dan River Boat Race has grown into a statewide event. Many paddlers have been racing with us for years, creating a "homecoming" for many. ATTENTION!! Pre-registration is $25.00 and onsite registration is $30.00.  Race will be held on August 7th , 2021.  Race begins at the Lindsay Bridge Access (775 Lindsay Bridge Rd. Madison, NC 27025) & Finishes at 704 Access (150 Water St. Madison, NC 27025).
Food and shopping will be available in downtown Madison.
Those entering two (2) events will be tagged to start at the beginning of the race.
Prizes and awards are distributed at approximately 12:00pm (when all paddlers have completed the race)
Awards will be handed out at A Sweet Southern Mess Antiques which is at the 704 Access
Parking & Shuttle Available
On-Site boat rentals available
Pre-Registration Deadline: August 6th by 3pm
Register online at https://etrak-plus.com/etrak/cp?org=114034&origin=http://m-mrec.org/ or in person/by mail to Madison Mayodan Recreation Center, 300 South 2nd Ave, Mayodan NC 27027
Registration:  February 17th – April 5th Player City – resident fee:  $20.00 Player Non-resident fee:  $25.00 Team Entry Fee:  $50.00 Important Info: Captain's Meeting:  April 12th Practice Begin: April 13th Games Start: Week of April 26th **Games will be on Mondays/Wednesdays
Adult Men's Basketball Registration (From April 16th through March 31st) Sponsor Fee:  $200/team Player Fee:  $25/player Interest Meeting: Tuesday June 1st at 7:00pm Games begin Sunday, June 6th, 2021 Games will be on Sundays between 1pm-7pm
Madison-Mayodan Recreation Adult Men's Softball Registration (From April 16th through June 11th) Team Fee – $400 *Roster must be turned before 1st game. Important Info: Coaches Meeting – June 15th at 7pm at Madison Mayodan Rec Center *Rosters are frozen after 3rd game.  Max roster of 15 player per team. Games Start – June 21st *Games will be twice a week on Mondays, Tuesdays or Thursdays at Jake Atkinson Park, 509 Main St. Mayodan, NC 27027 Contact Pat Sedlock, Athletic Director, at 336.548.2789 or psedlockmmrec@gmail.com for more info.